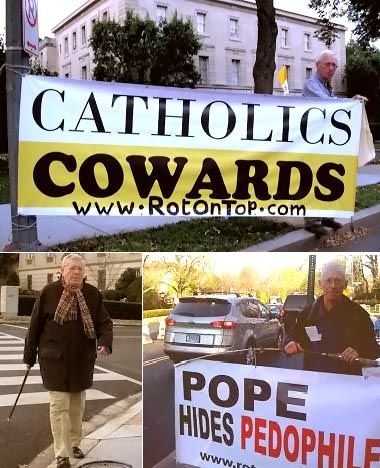 Top: John Wojnowski with banner
Sambi taking a stroll (left) Wojnowski (right)
Archbishop
Pietro Sambi
is the Vatican's ambassador to the US. An article in Politics Today notes that Sambi was hailed by the Catholic News Agency as "one of the Vatican's most able diplomats... an energetic and gregarious man with an ability to bring the human touch to diplomatic challenges."
Perhaps Sambi can turn it on with those who he needs to influence, but according to a protester named John Wojnowski the Nuncio's "human touch" isn't as apparent when dealing with critics of the Church.
In 1958 when he was 15, Wojnowski says he was sexually abused by a Catholic priest while on summer holiday with his brothers in the Piedmont village of Cuzzago.
Wojnowski: "... a priest offered to help me with Latin and called me into the rectory. He started touching my knee and my crotch and told me to masturbate in front of him. I ran away. That is all I remember. But I was totally crushed. I thought I ruined my life forever. After that my personality changed. My appearance changed. I became depressed and withdrawn. I did not know why."
He has been seeking an apology and "reparations" from the Church.
For the last 12 years Wojnowski has turned up most days outside the Apostolic Nunciature on Washington DC's Embassy Row to protest
sex abuse in the Church
. His most recent sign reads: "Sociopaths Hide Pedophiles. Vatican Hides Pedophiles."
He told Politics Daily columnist, Annie Groer, that Sambi has repeatedly insulted him in language that is far from diplomatic. Sambi reportedly engaged in the insults when out taking a stroll.
Wojnowski says he has attempted to contact the ambassador by fax and email in order to raise concerns about the insults, but says he has received no response to any of his queries.
When Wojnowski addressed Sambi in-person on the street outside the nunciature, he said the response he got was 'crude, devoid of compassion and politesse'. He added that the insults were in Italian, a language Wojnowski learned when his Polish family moved to Italy after World War 2.
Here are just some of Sambi's alleged insults cited in the Politics Daily article - insults that Wojnowski dutifully recorded in a datebook at the time of occurrence:
"Imbecile. Cretin. I am ashamed of you, a gift to the enemies of the Church." (Deficiente cretino per mi vergogno di te, un dono hai nemici de la chiessa) March 21, 2009

"Cretin" (Cretino) Feb. 18, 2009

"Tool. Paid idiot." (Strumentallizzato. Idiota pagato.) Jan. 19, 2009

"I am ashamed of you. You are a pig" (Mi vergogno di te. Sei un porco, Sambi's answer to Wojnowski's question: Excellency, are you ashamed to dress as a priest?) Dec. 28, 2008

"Shame. Shame. Shame. Shame. You are a stinking pervert." (Schemo. Schemo. Schemo. Schemo. Sei un pervertito fetente.) Oct. 21, 2008

"Crazy. Crazy. Moron," (Pazzo. Pazzo. Deficiente). Oct. 15, 2008

"You are a loser. You are a loser with a camera. You are a total loser." (Sei un fallito. Sei un fallito come fotografo. Sei un fallito totale) March 19, 2010

Whatever one may think about Wojnowski's protest, his picketing is legal and comes at a time when the Catholic Church has been swamped with allegations of sexual abuse. Wojnowski's eye-catching protest is symbolic of the outrage many feel. The response of the Church over the years to cases of clerical abuse involving children has been
to cover for offending priests
and shuffle them from one parish to another. This has only served to fuel the outrage.
If archbishop Sambi has been conducting himself in the manner Wojnowski alleges, he is helping to give credence to the view that high Church officials are defensive and arrogant in the face of the growing scandal, adding to the overall impression of a Church still in denial.
Link to
Politics Daily
-
Gawker
Posted by
Jay Cables